About me
Having always worked and studied in creative fields, I've had a lifelong passion for sewing for 30 years. With no formal training I decided to undertake a part-time course in fashion and clothes making. Following on from this I volunteered at Sheffield Theatres over a two-month period in 2010 for a production of Hamlet. This introduced me to the world of costume and inspired my future career path. In order to fulfil this I completed an intensive theatrical costume making course in 2011 at the
Northern College of Costume
in York. The course was purely practical and enabled me to develop costume making skills and techniques to industry standards. Since completing the course I've worked in TV, theatre, opera, with an ice skating costume designer and on private commissions.
In addition to costume making I've also worked part time as a seamstress at an alterations and bespoke clothing shop in Sheffield, called Amie B. I dealt with fittings and alterations (including bridal gowns and making bespoke garments). I also managed the business on three separate occasions, covering annual leave.
In my spare time I enjoy designing and making my own clothes and accessories. I particularly love making vintage-inspired clothing, my favourite era for dresses being the 1950s. When I'm not sewing, I'm a keen eBayer, always on the lookout for vintage patterns and retro fabrics to inspire me. I've also been building up a reference library over the last eight years to inspire, educate and inform my design and costume making decisions.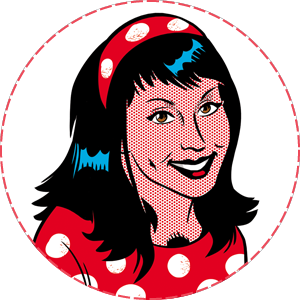 Illustration by
Jim Connolly
.